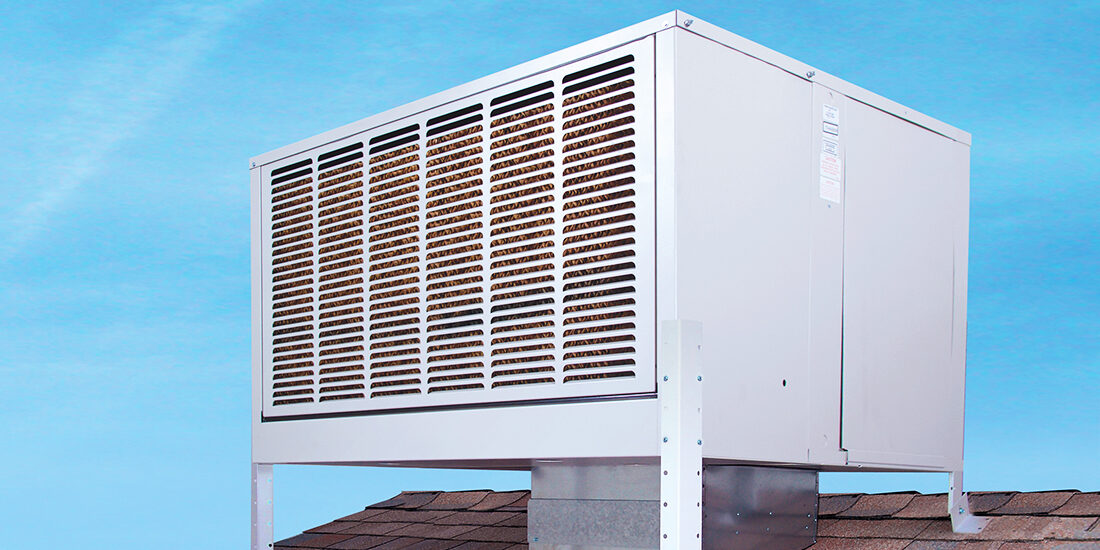 Evaporative Cooling
Improve Comfort. Save Energy.
Did you know that evaporative air conditioning systems use less electricity and are less expensive to install and maintain than refrigerated air conditioning? In hot, dry climates evaporative cooling is a cost effective and energy efficient way to cool your business.
An evaporative cooler is essentially a large fan with water-moistened evaporative pads in the air stream. The fan draws warm outside air through the pads and blows the now-cooled air throughout the building.
Evaporative cooling is an open system and takes air from outside the building. For evaporative cooling to work properly, the cooled air must flow freely throughout the area to be cooled. By choosing which doors or windows in your business to leave open, you can direct the flow of cooled air to areas where cooling is needed.
The Knowledge You Need.
Available only to residential customers in El Paso Electric's New Mexico service area.
High efficiency evaporative cooling rebates will only be paid for an eligible unit purchased and installed in the current program year meeting the following requirements:
Evaporative Air Conditioners MUST be purchased and installed in the current program year and listed on the Evaporative Cooling Unit Eligibility List to be eligible for a rebate.
Must be permanently installed with a single duct or ducted air distribution system (portable units and window units are NOT eligible).
Eligible building types include:
Assembly
Education – Primary School
Education – Relocatable Classroom
Education – Secondary School
Grocery
Manufacturing – Light Industrial
Office – Small
Restaurant – Fast-Food
Restaurant – Sit-Down
Retail – Small
Storage – Conditioned
Other small commercial may be eligible after EPE pre-approval
Participation Made Easy.
1. Select a contractor of your choice.
2. Customers may also elect to pursue a Residential Comprehensive Evaporative Cooling rebate without the help of a contractor.
3. Purchase a unit that is listed on the Evaporative Cooling Unit Eligibility List.
4. Once a new eligible evaporative air conditioning unit has been installed, the Evaporative Cooling Rebate Form must be completed online or mailed along with a copy of your receipt or invoice to the rebate processing center address. The rebate form can be accessed using one of the options at the bottom of this page.
5. Your rebate will be mailed directly to you. Rebate checks will be mailed within 4-6 weeks of receiving the application.
Rebate Amounts
* Rebate will not exceed the total a customer paid for qualifying model. Refer to the Evaporative Cooling Eligibility List in the download section below for eligible units. EPE will only pay rebates for eligible units.
Rebate for Eligible Evaporative Cooling Units*
Eligible models from approved EPE Eligibility List
w/ Saturation Effectiveness > 85%
$500/unit
Apply Now
Apply Online
Save time and fill out your rebate application online. Click "Apply Now" to get started!
After registering and confirming your email address, please select the "Customer" option in the profile wizard.
You will need digital copies of your invoice or receipt and additional documentation on the work performed.
Apply by Mail
Please mail any rebate applications to the EPE Rebate Processing Center. Make sure to include a copy of your receipt or invoice.
1515 S Capital of Texas Hwy Suite 110 Austin, TX 78746
Download Documents
Rebates are issued on a first come, first served basis until funding is exhausted or the program is changed. EPE reserves the right to adjust programs at any time. All rebates are subject to approval by the Program Manager.